Organically Grown Inner Leaf Aloe Juice (1L)
Your Therapeutic Super Juice
What is it?
Enjoy a daily dose of fresh, organically grown aloe vera juice for extra energy, a strengthened immune system and enhanced general wellbeing.
Dosage
Taking 10-100mL; 1-2 times daily can increase good bacteria in the digestive system, assist in the natural detoxification process, support cardiovascular health and help maintain healthy cholesterol.
Taking 30-60mL; 2-3 times daily can help relieve the symptoms of medically diagnosed Irritable Bowel Syndrome. If symptoms persist or worsen talk to your medical practitioner.
Taking 10mL; 2 times daily may improve skin elasticity and its internal structure in ageing individuals.
Shake well before use. Store below 30deg until opened. Refrigerate after opening and consume as soon as possible. Maximum daily dose 200mL. Do not use if the tamper seal is missing or broken. If symptoms persist talk to your medical practitioner.

Hero Ingredients
Aloe Vera
This highly nutritious, medicinal ingredient supports immune health, enhances everyday wellness and boosts collagen production.
All Ingredients
Pro-Ma Inner Leaf Aloe Juice contains Aloe Barbadensis Miller, Sodium Benzoate and Potassium Sorbate. Active Ingredient: Aloe Barbadensis Inner Leaf Fresh Juice 989mg/ml. No added flavours, colourings or sweeteners.
"My skin has never been clearer since I started drinking the aloe juice, no more embarrassing breakouts!!"
- Belinda
Product Reviews
Love the taste"

Geoff - Rosewood, QLD
I have been drinking the aloe juice for 13 years and am enjoying the new version. It is refreshing and easy to drink. I cannot be without my aloe juice, I even take it on holidays with me. My children know that there is always some in the fridge whenever they are not feeling well or have tummy upset. I would love them to take it daily for nutritional supplementation. I am leading by example and one day they too will take it daily. I am blessed to be able to purchase the best aloe juice at an excellent distributor price. What would I do without our Aloe?"

Elizabeth - Sydney, NSW
I have been drinking the aloe juice for 18 years and it has helped me in my healing since I had a stroke 18 years ago. I cannot go a day without it. I highly recommend it to anyone out there."

Reay - Port Moresby, PNG
I am loving the juice so far, bloating in the stomach has gone. My stomach feels normal and I have energy to do exercises and just feel fantastic all day."

Benigina - Brisbane, QLD
I have been drinking Aloe juice for about 10 years, I started because I was having ulcer & reflux problems, before Aloe Vera juice I was living on anything that would stop the burning of reflux. I still drink Aloe Vera because I have bloating and digestive issues. I have not had issues of boils for as long as I have been drinking Aloe Vera, I was getting a new boil every month, I found that the Aloe deep cleanser took away the pain and inflammation. Every time a customer starts confessing which problem is annoying them I always start them on our Aloe Vera juice. I love our Aloe Vera juice because I know what is in it and how it is made. I am passionate about our products and our high quality standards."

Angela - Newcastle, NSW
My skin has never been clearer since I started drinking the aloe juice, no more embarrassing breakouts!!"

Belinda - Shepparton, VIC
As I suffer from a number of ailments including Psoriatic Arthritis & was taking steroids to relieve me of these ailments, I was eager to try something else. After speaking to a Pro-Ma Systems Distributor, I was full of hope. Within the first couple of months of drinking the Pro-Ma Aloe Vera Juice & taking the Pro-Ma Natural Supplements, I knew I was able to start coming off my steroid medication. I had been taking this medication for 6 years under the guidance of my rheumatologist. Now 4 months later, I am completely off steroids & I no longer suffer from pain or joint stiffness that even the steroids couldn't relieve. I can now enjoy walking around the Lake and keeping up with my granddaughters, when before, I struggled to even do everyday household chores. Over the last couple of months, I've also been able to lose over 13kg & can honestly say that the Pro-Ma Aloe Vera Juice kick started the weight loss."

Andrea - Shepparton, VIC
I have been drinking Aloe Juice when I first diagnosed with high hypertension in 2014. I am completely healed and all gone for good. Have no more issues with BP. I highly recommend this product for those living with high blood pressure problem. This is the best product try it out!"

Monica - Kimbe, West New Britain, PNG
"I've had skin Psoriasis for over 30 years & been to doctors who prescribed cortisone creams of all sorts to apply to affected areas to no avail. I was recommended drinking the Optimum Health Organic Aloe Vera Juice. I was taking 40ml in the morning & 40ml at night. I drink it EVERYDAY. Then after a while, I increased the dose & drink 120ml first thing every morning mixed with cranberry juice. Within 2 months, I saw the improvement & it cleared up my Psoriasis on my hands, elbows & knees! I also had severe Psoriasis on my back & it took an extra 3 months or so to clear it up as well. I no longer have any Psoriasis on my body! I continue to drink the Organic Aloe Vera Juice EVERYDAY, 120ml with cranberry juice. Also, I suffered very badly with gout. I could not have a meal with prawns & have a drink of red wine because next morning, the gout was very bad! Some months later, I was at a function where there were some beautiful fresh big tiger prawns. I enjoy"

Santo - Victoria
Real Reviews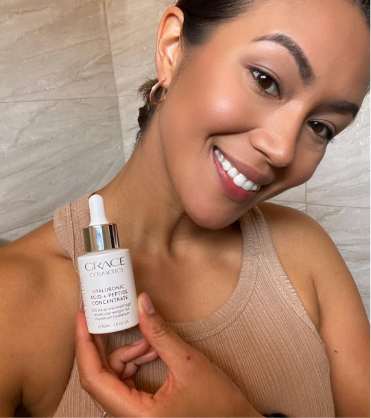 5-Star reviews from all around the world.
Organically Grown Inner Leaf Aloe Juice (1L)