Live healthy and fight off illness
Immune system defence + prebiotic
Get all the benefits of our powerful immune support formula which enhances immune function and helps defend against viruses. The added benefit of Oligofructose Prebiotics also helps improve gut health. Our tried and proven formula is listed with the Australian Therapeutic Goods Administration (TGA) responsible for regulating therapeutic goods including prescription medicines, vitamins and minerals, vaccines and more, making it a supplement you can trust.

Safeguard your health
A healthy immune system is the best form of defence in fighting any virus. Immune System Defence + Prebiotic is a natural formula that combines three powerhouse nutrients proven to help fight off illness and enhance general wellbeing.
OLIGOFRUCTOSE
Plant-based sugars, derived from fruits and vegetables, that are known for their prebiotic activity. They work symbiotically with probiotic strains to help promote the growth and activity of beneficial bacteria in the gut. A healthy, balanced gut means a stronger, more fortified immune system.
COLOSTRUM
A natural, milk derived, immune modulator that stimulates immune systems responses and influences immune cell activity. It is also known to combat harmful bacteria and prevent infections. Other active components of Colostrum are known to improve growth and repair of the gastrointestinal system.
WITHANIA
An evergreen shrub that possesses adaptogenic, anti-inflammatory and antioxidant properties that fortify the body against stress and fatigue. Research shows that a healthy intake can help reduce anxiety, modulate immune responses and improve cognitive function.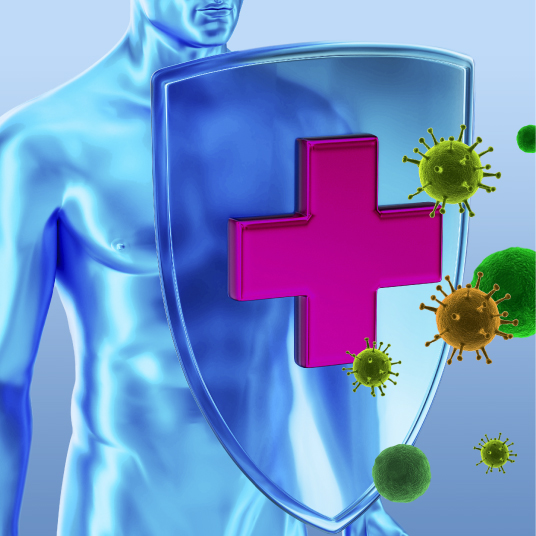 Real results every day
The Australian Therapeutic Goods Administration (TGA) confirms that a daily intake of our Immune System Defence + Prebiotic can:
Support the immune system in fighting illness
Support digestive system health
Support beneficial intestinal flora
Assist in the repair of gut wall lining
Relieve mild gastrointestinal tract inflammation
Enhance energy levels
Relieve fatigue
Support healthy stress response in the body
Relieve symptoms of stress