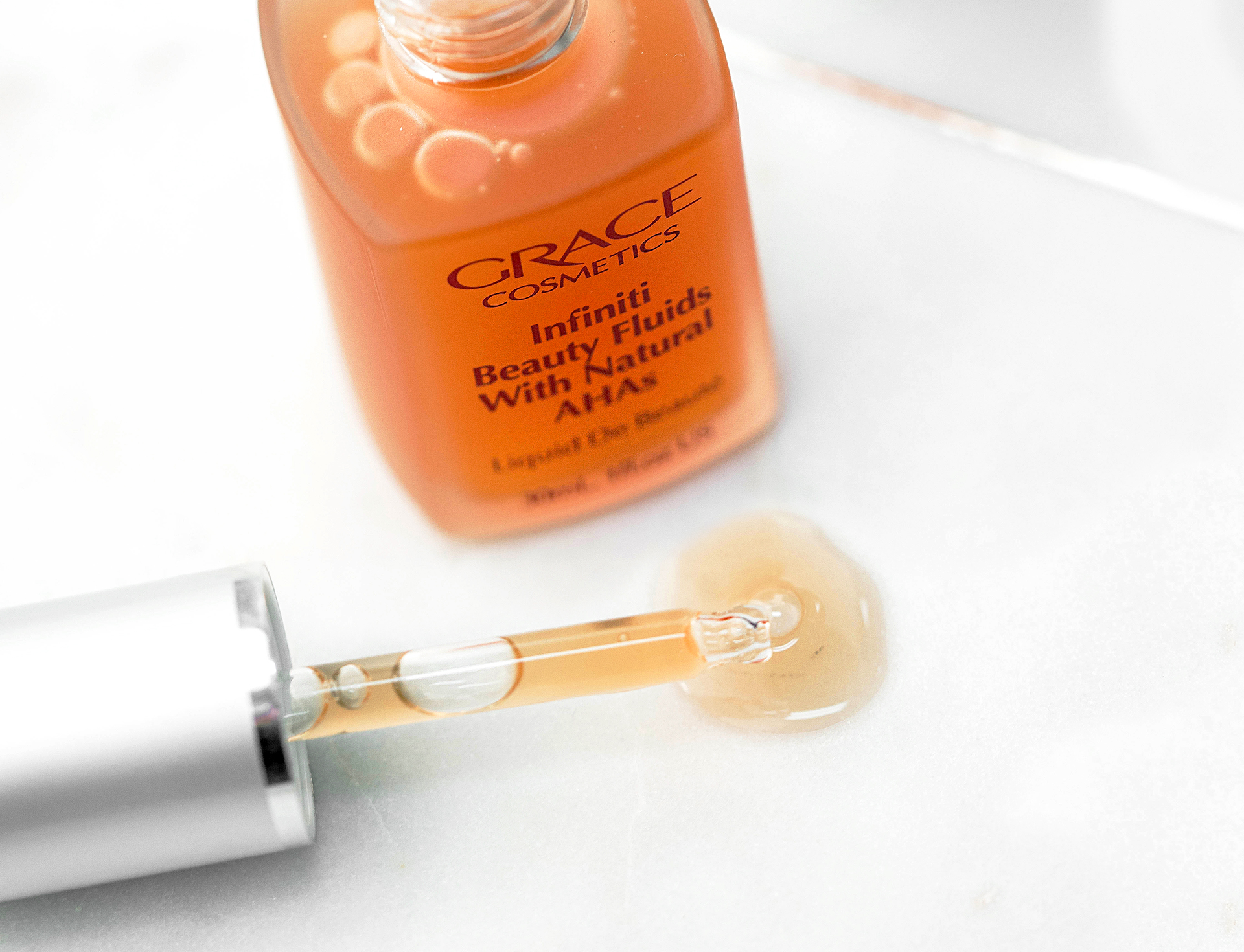 Product Highlight: Beauty Fluids with Natural AHA's
April 20, 2021
It's time to say goodbye to dull, congested skin and hello to glow with our skin correcting serum!
We have harnessed the power of natural Alpha Hydroxy Acid's (AHA's) to stimulate exfoliation and cell renewal. Our unique serum is a cosmeceutical powerhouse supercharged with ingredients that activate blood flow to the skin's surface. Here is all the information you need to know about the best AHA product on the market!
What are AHA's
Alpha Hydroxy Acids are used to chemically exfoliate the skin. This is a gentle way of exfoliating your skin, there is no abrasion to the surface of the skin. Therefore, if you have sensitive skin and tend to steer clear of conventional exfoliators, you can be assured this process will keep your delicate skin intact.
Fun Fact: Our AHA's are naturally derived from berries and sugar cane. That's why the colour of Beauty Fluids is a beautiful shade of light red.
What do the Infiniti Beauty Fluids do for my skin?
We call it our multi-tasking miracle because it has so many functions. The anti-aging botanicals in the serum slowly dissolves dead skin cells and activates the skin's natural regeneration process. This non-abrasive treatment works at a microscopic level and is undetected to the naked eye, but the results are visible! Here's what happens when you use our Beauty Fluids serum:
Lightens pigmentation and age spots
Combats wrinkles and surface lines
Treats blemishes and prevents scarring
Here are some real results from happy customers!
"This lovely little bottle of sunshine saved my skin. I first started using Grace in 2003 - this was part of the regime and turned my red-faced, spider lines and bumpy craters into smooth and sexy!" - Deanna from Melbourne, Australia
"Absolutely love Beauty Fluids! It makes my skin feel so smooth and in appearance it glows and radiates. It gives a clear overall complexion and even skin tone. Best product!" - Jasmine from Queensland, Australia
"This is the best AHA product on the market today! It does everything it says it will and I am proof of that!" - Trish from BC, Canada
Are the Beauty Fluids right for my skin type?
The Infiniti Beauty Fluids are great for all skin types! Acne scarring, anti-aging and general skin clarity. It's the perfect serum to add to any routine. You may experience a slight tingling of the skin or redness after application, but don't worry! This is the Infiniti Beauty Fluids doing their work. Remember, it's encouraging blood flow to the skin's surface!
How do I use Beauty Fluids in my routine?
Use the serum directly after cleansing. Place 8-10 drops in your palm and using your fingertips, spread over your face and throat. Complete your routine with a balancer and moisturiser.
If you have sensitive skin, we do recommend you dilute 5 drops of beauty fluids with 95% Aloe Hydrating Gel or Aloe pH Freshener.
For best application use the Infiniti Beauty Fluids as part of your night routine. Your skin will go through a chemical peel, therefore your skin will be sensitive to direct sunlight.
Featured Product...