When Natural Becomes a Lifestyle

Our Story
At Grace Cosmetics we are passionate about helping people find natural solutions to their skincare concerns. The number one ingredient in all of our skincare formulas is certified organic Aloe Vera. This high content of Aloe Vera, when combined with potent botanicals and cosmeceutical actives, works in perfect synergy to restore skin health, providing dramatic and lasting results.
Australian Made
Grace Cosmetics is a family owned Australian company with 37 years of experience in the industry. All of our unique skincare is made on the Gold Coast in a facility licensed by the Australian Therapeutic Goods Administration (TGA) & Australian Certified Organic (ACO). Even the way we make our skincare matters, that's why we manufacture to the highest Australian standards.
Natural. Botanical Cosmeceutical
We are committed to only using botanical and naturally derived ingredients in all of our skincare formulations. Cosmeceutical simply means our ingredients have been proven to affect and actually change skin cell function, giving you real, lasting results.
Organically Grown Aloe Vera
Unlike other brands who use water, the number one ingredient used in all Grace skincare is certified organic Aloe Vera. This high content of Aloe Vera helps restore health and clarity to the skin, treat problem areas and reverse the signs of ageing.
Cruelty Free
In all of our years we have never tested on animals. We believe animal testing is completely unethical and we are committed to only using humane practices to verify the safety of our skincare.
Recyclable Packaging
Grace Cosmetics only use recyclable PET (Polyethylene Terephthalate) packaging as an environmentally friendly alternative to traditional methods, helping us to reduce our carbon footprint but maintain the high-quality standards of our formulas.
No Sulphates or Parabens
Grace Cosmetics is always free from harmful chemicals, toxins, synthetic fillers, artificial preservatives, colourants or perfumes. We believe that nature has the best solution for skin health and each of our ingredients are carefully selected for a specific purpose.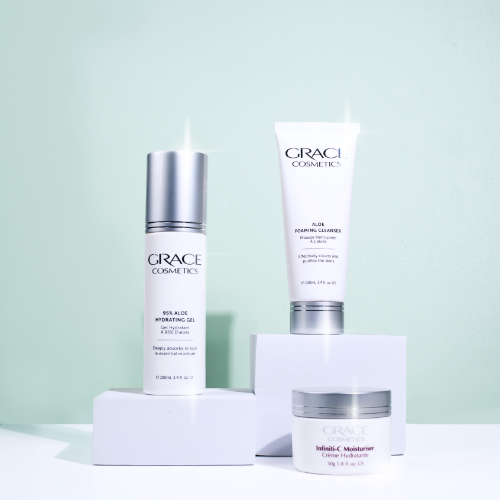 Start Your Grace Journey
Healthy, luminous skin starts with mastering the basics. Make the switch to natural skincare with our simple, yet powerful Everyday Go-To routine.
Discover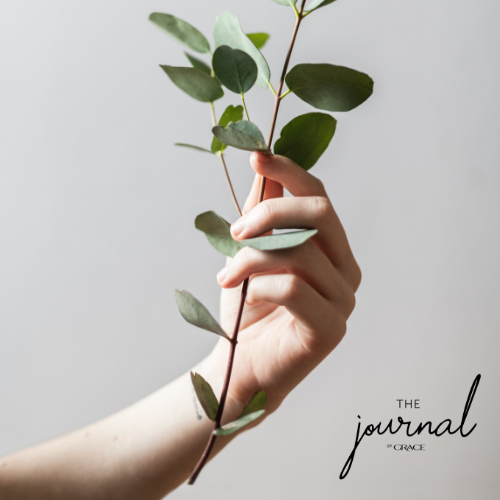 Tell Me More
Want to know more about how to live naturally? The Journal is the place to go. Find skin care tips, tricks and insider info from our experts.
Discover