Aloe Gel with Manuka Honey
100% Pure & Natural Healing Remedy
What is it?
This potent healing gel is nature's solution to treat any skin concern. It absorbs fast to soothe irritation and promote skin recovery.
Recommended Skin Types
All
How to Use Pure Aloe Gel with Manuka Honey
Apply onto affected areas of your skin as often as needed.

Hero Ingredients
Aloe Vera
Aloe Vera is proven to penetrate the skin four times deeper than water and will permeate through layers of skin water can't reach. It contains high contents of vitamins, minerals and anti-inflammatory properties to visibly transform your skin.
Manuka Honey
Manuka Honey rebalances the skin's pH level and helps slough away dead cell debris. With its anti-inflammatory effect it can decrease infection, acne and bacteria.
Chamomile
Chamomile helps skin regenerate by tightening pores, slowing down the signs of aging and lightening the skin with its powerful antioxidants.
All Ingredients
*Aloe Barbadensis Leaf Juice, *Honey (Manuka), Lonicera Caprifolium (Honey Suckle) Flower Extract, Lonicera Japonica (Honey Suckle) Flower Extract, *Anthemis Nobilis (Chamomile) Flower Water, Xanthan Gum, *Olea Europaea (Olive) Leaf Extract, *Melissa Officinalis Leaf Oil (Lemon Balm),* Passiflora Edulis Flower Extract, *Alcohol (organic sugar cane ethanol).* Certified Organic Ingredients.
"You won't believe how quickly this product heals cuts and burns and as I just found out, stops the pain from hornet stings within a minute. This is a must for everyone to have in their homes, especially those with children. Awesome product!!"
- Trish
Product Reviews
You won't believe how quickly this product heals cuts and burns and as I just found out, stops the pain from hornet stings within a minute. This is a must for everyone to have in their homes, especially those with children. Awesome product!!"

Trish - BC, Canada
This product is absolutely amazing. My husband has very sensitive skin and is susceptible to mosquito bites and sunburn. Both are relieved immediately on applying the Aloe & Manuka Honey gel. The redness from the sunburn disappears within minutes and the itch from the mosquito bites stop almost immediately. The best product we have ever used."

Ita - Perth, WA
Forget sunburn and acne, this product heals wounds that won't stay closed with surgery. After being re stitched 4 times, I took matters in my own hands and started using it. 2 weeks later, it was no longer an open wound - it had almost completely healed. The surgeons were amazed. One down, one to go, but this one is more complicated due to a drain. I could not live the almost normal life I live without it. Most irritation disappears overnight which means I can work. This gel is a miracle and I recommend it to everyone. The wound was really swollen today and constant reapplication has seriously helped."

Sabrina - Melbourne
This child does not cease to amaze me. Literally heals overnight! A day after Deana slips & falls, her cut above her eye that I applied Aloe Gel with Manuka Honey to is basically healed. Bump on head goes down in minutes, No bruising. Bit of a sore elbow. Also a month ago, she fumbles & falls, had no shoes on, fractures 2nd 3rd & 4th on her left foot. Dr says "it looks like a trucks run over it" We only knew this cos it was sore to touch & thought to get an x-ray. Didn't complain too much, she's a tough cookie. Got on with her daily activities. Dr said "it could take 6-8 weeks to heal" I don't think so!! We saw Dr 2 weeks later & she walked up to him like nothing was wrong, he smiled & shook his head Dr is amazed & knows all about her Organic Aloe Vera Juice she drinks every day. He says to me "you know what to do, keep doing what you're doing"

Karen - Shepparton
THIS PRODUCT IS AMAZING!!! My grandson had severe nappy rash and I mean severe his little skin was red raw, nothing was helping to sooth or cure it. My daughter took her son to the doctor on various occasions and was prescribed a few different creams that made absolutely no difference. I came across this cream by chance and brought it for her to try… IT'S GONE! the nappy rash has completely disappeared."

Shae - Loganholme
This product is a miracle in a bottle, I have such amazing results with this that I have a couple in the house and I buy it as gifts and give them to friends especially with kids because I have used it several times on burns I've gotten on my hands from cooking and my hair-iron - totally calms the burn so it doesn't blister and heals it with barely a mark left behind! As well as on my contact-dermatitis on my face and hands - I apply a pea sized amount to the area 2-3 times a day and within 3-4 days the dermatitis is totally gone and the skin looks like nothing ever happened!!! Previously I had to use cortisone cream which the doctor prescribed and it would darken my skin and I hated having to use such a harsh chemical on my face but no more now that I have the Pure Aloe Gel with Manuka Honey!!! Please don't ever get rid of this product or change its formulation - it really is a miracle product!!! xoxox!"

Sabrina - Melbourne
Real Reviews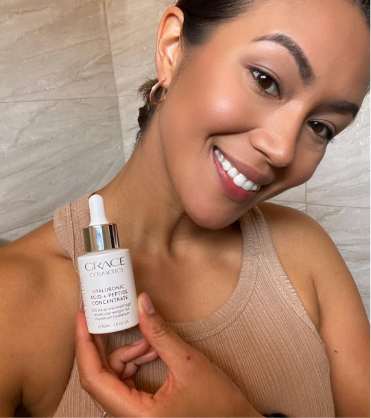 5-Star reviews from all around the world.
Aloe Gel with Manuka Honey